Accumulating digital data means a headache for organizations. How do the firms then manage massive data? The solution - Power BI tools. Firms use it to extract information from their data.
Financial organizations use Power BI to enhance decision-making. According to a study, 54% of companies use cloud-based BI. They depend on it for their ongoing and upcoming activities. Cloud-based power BI helps firms reach their objectives.
Multi-dimensional database support attracts the finance industry. Enterprises today pick Microsoft Azure as their Public Cloud BI provider. Companies look to outsource Power BI solutions for data management. This impact has increased the demand for Power BI developers in financial companies.
Another helpful stat - 14.2% use Microsoft Power BI in Banking and financial industries, and 5.3% use it in the insurance industry.
Power BI helps develop engaging and insightful solutions. It helps generate interactive consolidated Income Statements and Balance Sheets. It also shows performance metrics, visualizations, and charts. It lowers expenses and increases revenues and transparency.
Financial firms fulfill their Cloud BI security needs with PCI DSS (Payment Card Industry Data Security Standard). Financial professionals rely mainly on accurate, current reporting. Power Bi helps finance companies to make future-worthy plans.
1. Why do Financial Services Consider Using Power BI?
Financial professionals use advanced data analytics tools like Power BI to interpret data better. They can use it to manage and analyze financial-related data, charts, and financial KPIs.
Here's why financial services use Power BI –
To monitor sales and overhead expenditures

Implement fund management strategies

Track profitability, track products, services, and customers

Predict and forecast with data projections

Improve budget and enhance the productivity of finance teams
How Does Banking Industry Use BI?
Implementing BI in banking enables banks to link systems. It helps develop interactive data visualization dashboards to communicate across platforms.
For instance, suppose a banking executive needs to collect all data from various IT systems. This massive banking data takes two weeks and four employees to finish. This shows why banks want to implement business intelligence.
BI helps integrate all systems and databases with "live" data reporting. It standardizes and streamlines functions to boost productivity.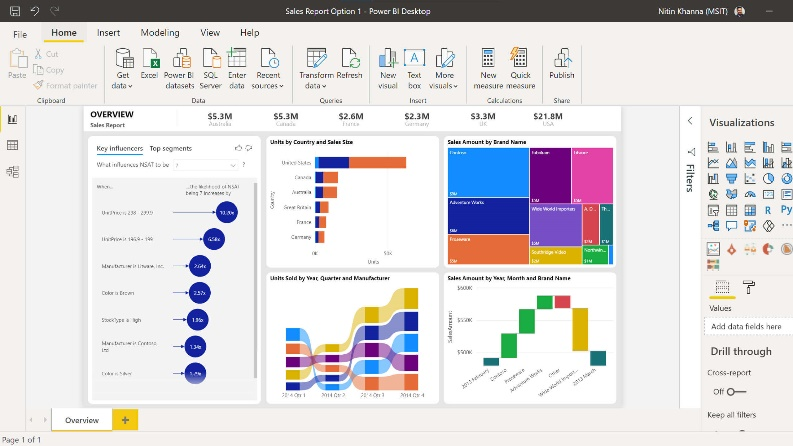 Source – Microsoft.com
How Can BI Help in Financial Operations?
You may manage and monitor your KPIs or metrics using a Power BI dashboard. How does that assist?
Improve your cash and expense management techniques.

Keep track of your company's costs and sales figures.

Give a daily summary of your company's cash flow and liquidity.
You can track all the outstanding payments (due from your clients). Plus, all the overdue amounts from your account payables and account receivables (to your business vendors and partners).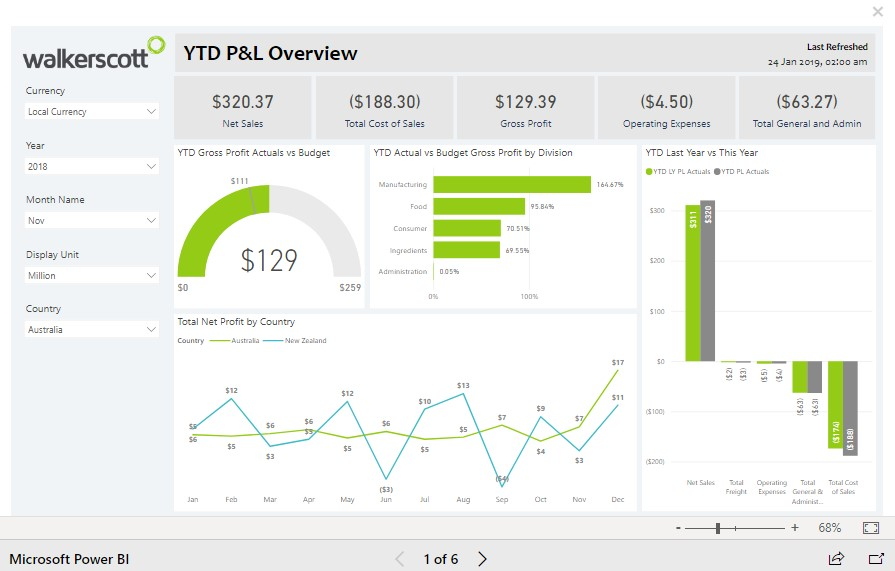 Source – Microsoft.com
How Can Power BI Help With Financial Analysis?
You can use reports for balance sheets, profit and loss statements, and other financial information. You can also gain insights into the company's operations, stability, and health. You can use Power BI for finance dashboards for financial examination and reporting. The Power BI dashboard has numerous applications.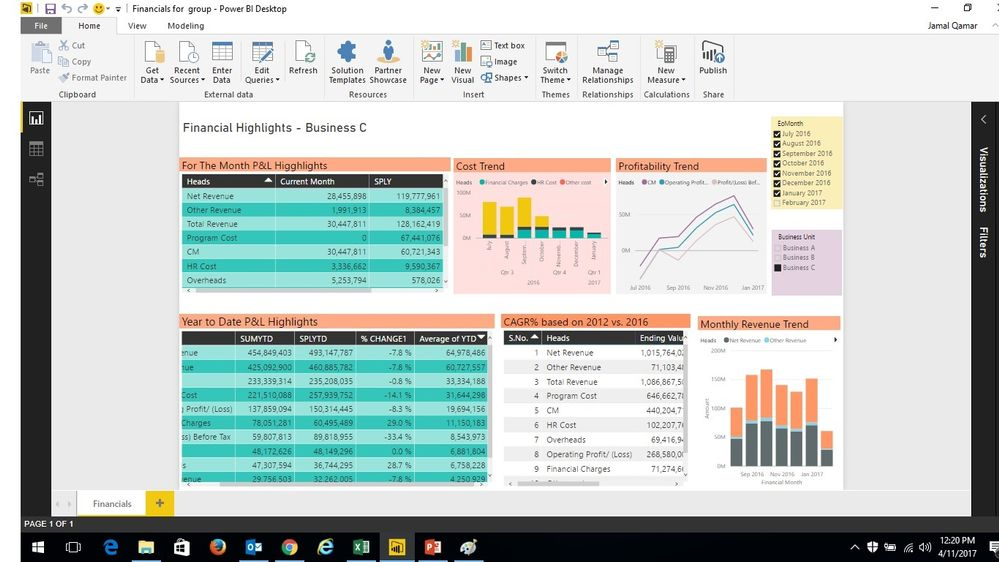 Source – Microsoft.com
How Power BI Helps with the visualization of data?
Data analysis uses data visualization to give diverse insights into KPIs and measurements. Users can follow their financial and related records. Competitive businesses know their customers and make data-driven choices with data analysis. In this sense, simply having access to the data is no longer sufficient. Research and creating visualizations that aid in comprehending the data are equally essential.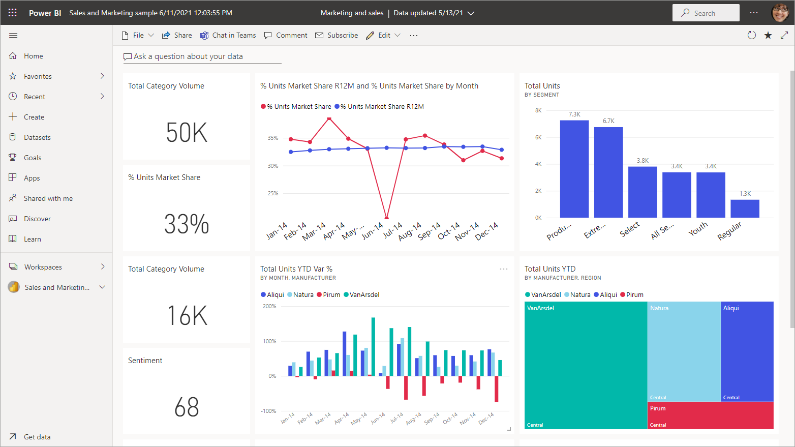 Source – Microsoft.com
How Can Banks Use Power BI for Generating Financial Statements?
A better choice is using Power BI in Finance Industry with an intelligent financial planning tool. Budgeting, financial forecasting, and reporting skills work for planning solutions. It helps to customize cash flow statements to loss statements. The reporting tools include options for building Power BI banking dashboards for quick views and drill-downs for data analysis. You can still utilize Power BI in Banking sector as it has built-in tools to generate these reports from your data.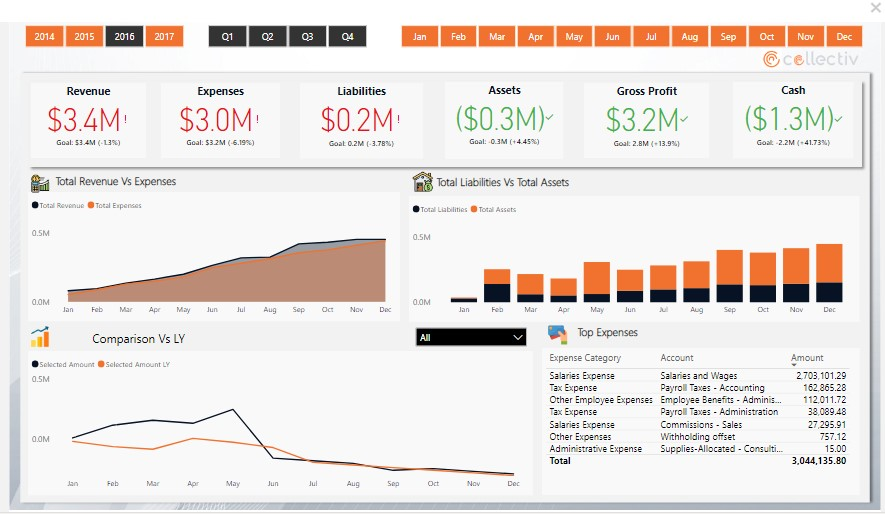 Source – Microsoft.com
How Can Power BI Help Financial Firms for Accounting?
Accounting has many challenges, and the main concern includes how to use Power BI in finance. Reports, data, and numbers can easily overwhelm you. You can lose perspective on crucial trends and indicators. Power BI helps to highlight the lost areas in the data. Using Power BI finance dashboards, managers can easily understand performance and the issues on the spot.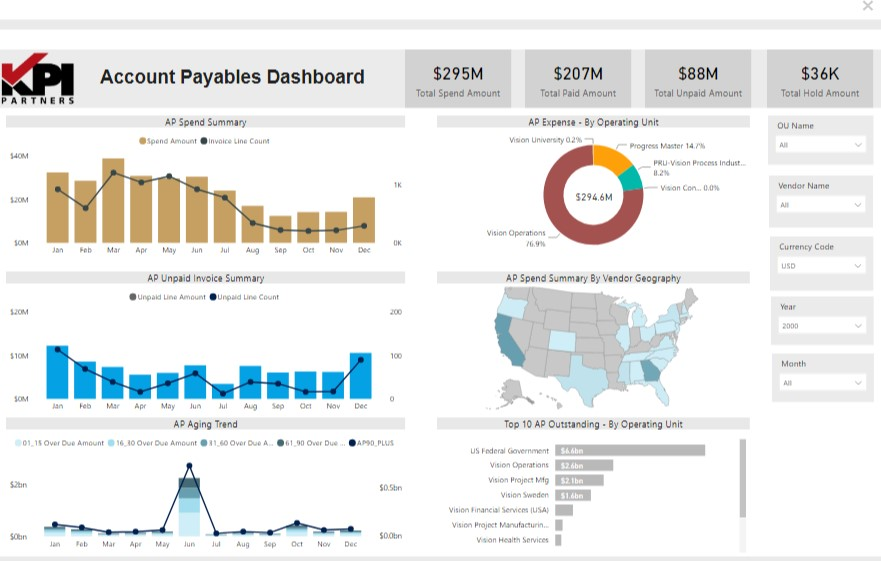 Source – Microsoft.com
2. What are the Challenges of Working With Power BI?
There is a lack of drill-down capabilities from summary-level reporting and underlying transactions. You may have difficulty integrating with other systems or using pertinent non-financial data. Creating a clear reporting hierarchy to organize your information beyond financial factors might be challenging.
You may face difficulty combining metrics with limited capabilities to prepare variance analysis without transferring data to Excel. Financial ratios and other more sophisticated measurements are not visible. Dashboard management and customization frequently require Power BI Consultant for Finance.
3. Benefits of Using Power BI for Financial Services
Here are some benefits of Power BI for the BFSI industry and how financial firms take advantage of power bi -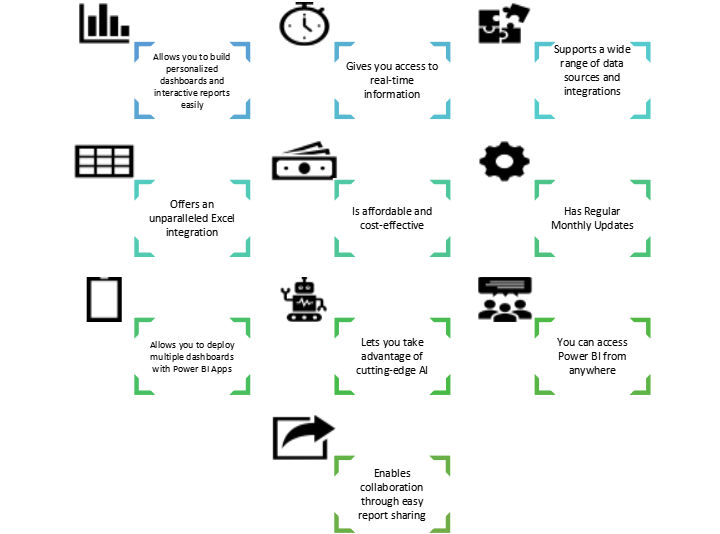 4. What are the Use Cases of Power BI?
Watch out for Scams with Fraud Analysis
Financial scams have surged in volume and value, according to a KPMG global banking survey. Every bank now places the highest priority on fraud detection and prevention.
For instance, banks look for a robust fraud management system and an advanced risk prevention BI platform.
It also accurately supports daily transactions; another reason financial analysts choose Power BI in BFSI Sector.
Use Cross-Selling to Boost Sales
It helps to determine consumer groups based on past purchases made across several product categories.
For instance, a company wishes to identify clients who bought a bike but have no accessories.
The cross-selling matrix table of comparison products will help review the CRM data. It will also help to discover consumer patterns.
You can also check out our blog on top mistakes to avoid in BI projects.
5. Use these Tips for Implementing Power BI Successfully
In the banking sector, use Power BI

to incorporate many institutions' current systems effectively.

Ensure your data analytics strategy is sound. The plan should tie the bank's vision to its daily operations and long-term objectives.

Establish the implementation's parameters but leave room for adjustment.

Streamline the steps in extracting data, spotting trends, and leveraging the results to hit all goals.

Work with a reputable solution vendor or Power BI partner to get the process going.

Make an implementation plan and establish reasonable objectives.

Create a unique dashboard for your bank and your customers' needs.

Utilize Power BI's real-time analytics to measure and monitor performance. To obtain better insights, modify the dashboard as needed.
6. What Are Some Alternatives of Microsoft Power BI
How Microsoft Power BI stacks up against the other business intelligence tools? The short answer is that it connects data from the systems you're probably already using effortlessly. It is an excellent choice for many tiny to medium-sized firms. However, there are many other BI tools.
Tableau is renowned for its user-friendly data visualization feature. It is capable of more than just creating attractive charts. Their product line includes live visual analytics, and a drag-and-drop interface instantly lets users identify data trends.
QlikSense
It offers a self-service approach with BI solution QlikSense. It provides a variety of analytics use cases, from guided apps and dashboards to custom and integrated analytics. It features a touchscreen-optimized user-friendly interface, cutting-edge AI, and robust cloud platforms.
SAP Business Objects
A business intelligence tool called SAP Business Objects provides in-depth reporting, analysis, and interactive data visualization. The Platform places a lot of emphasis on digital supply chain, ERP, customer experience (CX), and CRM. Even non-technical individuals can utilize the comprehensive business intelligence platform.
Datapine
Datapine helps simplify the intricate process of data analytics. Data analysts and business users may easily connect various data sources. It helps with complex data analysis, develops interactive business dashboards, and produces helpful business insights. It employs a complete self-service analytics strategy.
SAS Business Intelligence
SAS's well-known for powerful predictive analytics. It offers a fantastic business intelligence platform. Users can use data and metrics with this well-established self-service platform. Users have several possibilities for customization when using their APIs. SAS assures high-level data integration and sophisticated analytics & reporting.
Zoho Analytics
It provides an excellent BI solution for in-depth reporting and data analysis. This business intelligence tool can be set up to sync data automatically. Utilizing the integration APIs creates a connector quickly. Combine and integrate data from many sources to produce valuable insights.
Oracle BI
Oracle BI enterprise suite provides Business intelligence technology and applications. This technology allows customers to access almost all business intelligence features. It provides dashboards, proactive intelligence, ad hoc analysis, and more. Oracle is also fantastic for businesses that need to analyze massive data from both Oracle and non-Oracle sources.
You can also check out our blog on how Power Bi is transforming the healthcare and pharma industry.
Conclusion
Our developers at Clarion Technologies can assist you whether you are still assessing your business requirements or wish to maximize the potential of your current Power BI platform.
We can assist with our Power BI consulting services if you require assistance. We have 20+ years of experience serving clients from various domains and industries. Sign up for a free two-week trial or contact us at info@clariontech.com.